play_circle_filled

01. Natural Ecosystem
Black Solo

$1.29
Title: Natural Ecosystem
Genre: Rap, Cloud Rap
Artist: Black Solo
All Rights Reserved
Copyright 2020
Paradise Label
Interview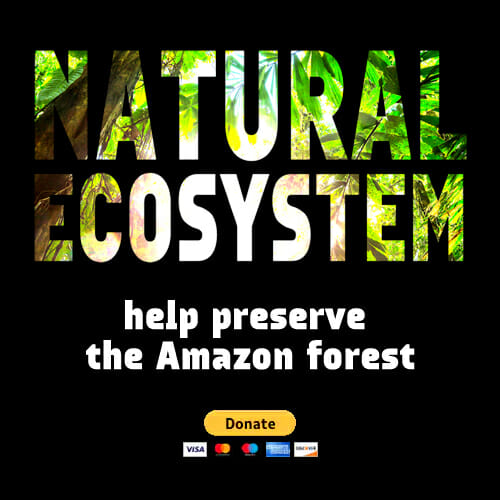 On the occasion of the release of Natural Ecosystem, we met Dan Solo, alias Black Solo for this interview.
Why produce a song to help preserve the Amazon forest?
By watching like everyone else the images of these fires and by hearing that these forest fires were intentional, we can not do anything. Even though I have never set foot in this region, it is part of our little planet and we cannot continue to let it go. Natural Ecosystem song is therefore a rant against the system, against corruption, against companies that pay for deforestation in the eyes of all, against those who do and who let act. It is also a song that demands everyone's awareness and all of your help.
How did you compose this song?
Through my Paradise Label, I met Christopher Nao, a composer whose renown in the world of film soundtracks and video games music is undeniable. His musical universe is very airy, very visual. His music illustrates the dramatic aspect well. The goal is to get angry with frank and understandable words. This song took a long time to be performed. I also didn't want to be among those hoping to sell their music on the basis of a media generated buzz. With Paradise Label, we decided to wait a bit, almost 10 months!
How can Natural Ecosystem song actually help?
Each year there are more and more forest fires, and for the first time in 2019 smoke and ash blown by the winds travel nearly 3000 km to black out Sao Paulo in middle of the day. For almost 2 months, the media of the whole world made their buzz, the international organizations on the ground collected a few thousand dollars in additional aid, the Brazilian government made vows of charity and promised to contain the problem that had been evaded for years.
We have to stop this!
The first step in my engagement is the need to raise awareness in the long term. I believe a lot in the collective consciousness of the human being, his capacity to find solutions to survive. The more we are aware that it is necessary to preserve the lungs of our planet, the more our collective actions will be possible. Music is not just entertainment. It is the cultural medium for getting messages across.
The second step is to raise funds to expand the backup programs run by the organizations that really do work on the ground every day. This collection can already be done by these organizations themselves, but I want to add my share.
What resources do you provide?
To those who listen to Natural Ecosystem, those who love my music and those who follow me, then I ask them to make your active contribution. This contribution is not only money.
1,000 likes are sometimes more useful than $ 1,000 spent by organizations whose actions are sometimes without result. Share this song around you, share it on social networks, like it, add it on your playlists, use it for your videos for those who can.
I am speaking to musicians around the world. Download the free stems from the Paradise Label website to compose your own version. All rights for this song are collected for this cause.
I think of the DJs: raise awareness among your audience, make Natural Ecosystem listen in your gigs. Do it!
If you have the means, buy the MP3 of Natural Ecosystem song directly on the Paradise Label website. $1 will be donated to organizations that help preserve the Amazon rainforest.
Last, if you can afford it, make a donation by clicking on the Donation Button.
Which organizations do you support?
– Amazon Watch
– Amazon Team
– Amazon Conservation
– Survival International
– Iwagia
– Rainforest Action Network
– Rainforest Trust
How to make a donation?
Donations can be made:
– directly on the site of the organizations mentioned above
– buying and downloading directly Natural Ecosystem song from Paradise Label. $1 will be donated to organizations that help preserve the Amazon rainforest.
– clicking on the Donate button
Thank you for all of your help.
Lyrics
[Intro]
The Amazon forest is in danger
Danger
We need to act now
Danger
Stop this wickedness
Nature must prevail
[Verse 1]
Amazon forest is crying, she try to survive
They killing her out and she dieing
Look what they did to the forest, how they cut the trees
How they made the root bleed
How do we keep doing the same thing for selfish reasons
Obsessed with the money making mentality
Natural Ecosystem
[Verse 2]
Just for greed, they loading they trucks
Taking resources out of the forest
We can't rest thinking about the effects of this actions
They Earth's getting angry and there's gonna be reactions
Natural Ecosystem
Natural Ecosystem
[Chorus]
Can somebody come and help us now
We need the Amazon forest back…
Natural Ecosystem
Somebody come and help us now
We need the Amazon forest back
[Verse 3]
Is being tampered with
Somebody stand up and stop this insanity
Look what they did to the forest, how they cut the trees
How they made the root bleed
Just for short time profit
This is not meant to be
The love of money has already made our world crazy
Natural Ecosystem
Natural Ecosystem
[Chorus]
Can somebody come and help us now
We need the Amazon forest back…
Natural Ecosystem
Somebody come and help us now
We need the Amazon forest back
[Verse 4]
Killing the plant life
Killing the animals,
Lands occupation,
Destructive fires,
This is violence we gotta stop this nonsense
Mining, deforestation, hard wood trafficking
[Verse 5]
We gotta stop this
This is the season
We gotta stop this
And stop the fire, everything is just burning out
[Break]
Natural Ecosystem
Bring the Amazon forest back again
Natural Ecosystem
[Chorus]
Can somebody come and help us now
We need the Amazon forest back
Natural Ecosystem
Somebody come and help us now
Can somebody come and help us now
[Outtro]
We gotta stop this
Stop all illegal activities in the Amazon forest
And let's restore sanity
Listen to all songs
Black Solo on Amazon Music
Black Solo on Apple Music
Black Solo on Deezer
Black Solo on Spotify
Black Solo on Napster
Black Solo on Tidal
Black Solo on iHeart Radio (US & Canada)
Black Solo on Pondora
Black Solo on KKBox (Hong-Kong)
More keyboard_arrow_down
Less keyboard_arrow_up
---
Purchase album keyboard_arrow_down
---